JON GOMM


Passion Flower (by Jon Gomm)





‪ Ain't Nobody (Chaka Khan)





Topeka (by Jon Gomm)





BBC TV Interview



JON GOMM

Contact: Natasha Koczy (manager)
email: info@jongomm.com


Jon Gomm .com
Facebook
Twitter
You Tube
My Space
Wikipedia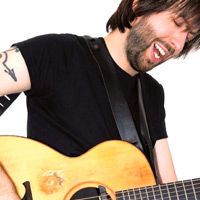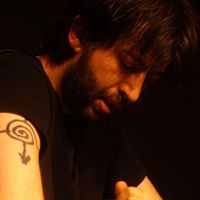 Jon Gomm, based in Leeds, West Yorkshire in the UK, is an acoustic singer-songwriter with a revolutionary virtuoso guitar style, where he uses one acoustic guitar to create drum sounds, bass lines and twisting melodies all at the same time. The emphasis is still on the soulful vocals and songwriting, and his original material is influenced by everything from Robert Johnson to Radiohead.
His live shows combine deeply personal performances and a natural wit, with a once seen-never-forgotten two-handed guitar style, both physical and complex, producing sounds people can barely believe are coming from a humble acoustic guitar.


Jon first laid his hands on a guitar at the age of two (actually it was a ukulele - his parents couldn't find a guitar small enough). He wrote his first song at the age of six, and was soon accompanying his father, a music critic, to gigs in his hometown of Blackpool. Touring musicians would often stay at the Gomm household on the understanding Jon would get a guitar lesson, meaning he had one-to-one instruction from such blues legends as BB King and Jack Bruce of Cream.


Nowadays, Jon tours worldwide. In January 2012 the song Passionflower went viral online, with the video passing 3 million hits, resulting in national TV appearances in the UK, Portugal, Holland and Turkey, and plaudits from new celebrity fans, such as:
"Wonderful to watch. Genius."
- Stephen Fry

"I love your work and style so much. You are very special"
– Jon Anderson (Yes)

"Wonderful playing and singing"
- David Crosby (Crosby, Stills and Nash)

"Hands down the most amazing guitarist I have ever seen!"
- Tommy Lee (Motley Crue)
Jon is a truly independent artist, with his own label and no mainstream industry support, but using mostly online social networks for promotion, he has defied the odds with a huge, truly supportive fan base resulting in tour bookings from Australia, Canada and the US to Poland and Estonia. His debut CD Hypertension has sold over 50,000 copies at the time of writing, and his latest CD Don't Panic sold out within 3 days of appearing on Amazon. His videos are watched tens of thousands of times within hours of appearing on Youtube. He is currently releasing a series of Pay What You Want singles, with a new album planned for 2013.
* * *